I honestly don't mean to be controversial, nor inflammatory, with that title.
I've thought, off and on, of writing this post for a few months now, since Independence Day 2019.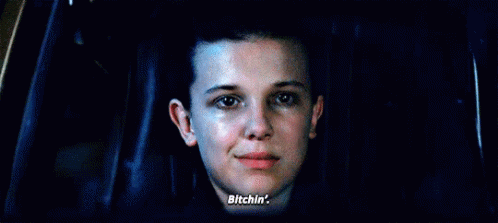 July 4th 2019 was the release date of Stranger Things Season 3, and that expression was used several times that series. It didn't strike me as vulgar when it was said. The more I have thought about it, the more I think it fit with the story the Duffer brothers had been telling since the first season.
Stranger Things again, and again, challenges us to stand up for what we believe is right. Even when everyone around refuses to believe, despises, or even outright persecutes – each character is still expected to carry their convictions through.
In the first season, Joyce has to stand up to every single person in her life about her belief that her missing son yet lives. Hopper takes on the state police force. Steve calls out the manipulative and abusive behavior of his closest friends…. the list goes on for each person who must personally face significant pain, or danger, to follow through on their convictions – and the one glaring cautionary tale is the gentle Barbara Holland.
Barb isn't into mischief, and he seems to be doing OK at avoiding trouble in her life. She is trying to be a friend to Nancy, but when Nancy heads for clear trouble, Barb allows herself to be talked into a bad idea. She knows what is right for her to do, but she allows herself to be talked into taking a road that deep down she knows is wrong. Her compliance to Nancy's enticements ends up costing her very life, and she's one of the only named-characters to get devoured by the Demogorgon.
So going back to the word bitchin'. I had a bitch, an Australian Shepherd with two beautiful blue eyes, and she was fierce, vigilant, and attacked both raccoons and coyotes that came too close to our farm. Eleven and company were a lot like that in Stranger Things. Each person was called on to be fierce, to be vigilant, to fight evil…and in that way, bitchin' seemed like the perfect term.